Currently landlords of commercial properties in England and Wales are forbidden to grant a new lease unless the property has an EPC rating of an E or higher (except where particular exemptions apply see below). However, this does not apply to existing leases.
Exemptions
There are some exemptions that may apply where an EPC is not required such as whether you can demonstrate that your building is any of the following:
listed or officially protected and the minimum energy performance requirements would unacceptably alter it
a temporary building only going to be used for 2 years or less
used as a place of worship or for other religious activities
an industrial site, workshop or non-residential agricultural building that doesn't use much energy
a detached building with a total floor space under 50 square metres
due to be demolished by the seller or landlord and they have all the relevant planning and conservation consents
If your property is not any of the above building types then there are further exemptions that may apply:
if a third party is required to provide consent for the carrying out of works but this is refused (such as a local planning authority);
if the property were to become devalued by 5% if improvements were made or that the works would damage the property;
if all cost-effective improvements have been carried out but this still does not result in an EPC rating of E or higher; and
if it can be shown that the improvements would not pay for themselves through energy savings within a seven-year period.
Please note that these exemptions require to be registered in advance on a Government register. They are not automatic and need to be renewed at least every 5 years.
Sanctions
Should landlords breach the Minimum Energy Efficiency Standards (MEES) requirements, they could face a financial penalty based on 10-20% of the rateable value of the property up to a maximum of £150,000.00 per breach and be published on a public register giving details of the breach.
Upcoming changes to the Law
From 1st April 2023, all existing and continuing leases will require a minimum EPC rating of an E (unless a valid exemption has been registered). A landlord in breach of this regulation may face financial penalties and publication on the public register.
The Government released an EPC Future B Trajectory Implementation in 2021 and have proposed to raise the EPC rating requirement for commercial properties to C by 2027 and then B by 2030. However, this is currently still in draft form.
The introduction of two-year 'compliance windows' will begin with the requirement for landlords to present a valid EPC. For a C rating, the Government proposes the compliance window should be 2025 to 2027, and for a  B rating, 2028 to 2030.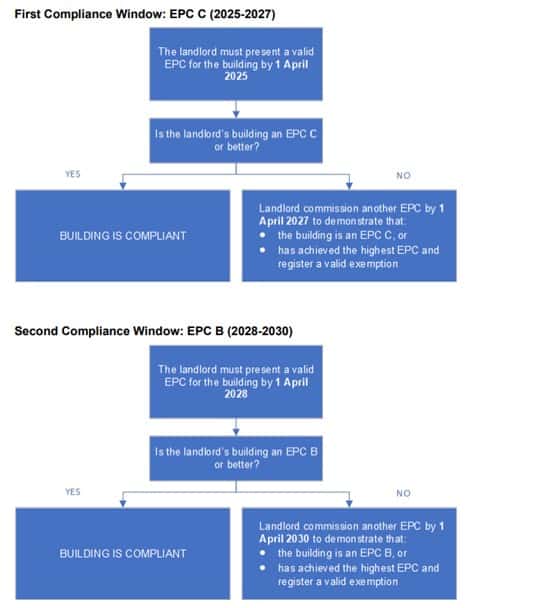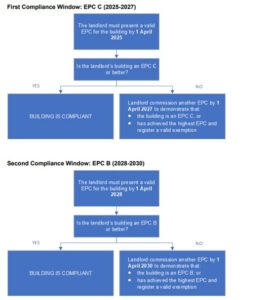 Image from: The Non-Domestic Private Rented Sector Minimum Energy Efficiency Standards Implementation of the EPC B Future Target Closing date: 9 June 2021, Page 23.
The Government have stated that "the notable change is that landlords will be required to present a valid EPC two years before the enforcement date for both EPC targets. This will mean submitting their current EPC to an online PRS compliance and exemptions database which will then 'start the clock', creating a clear time period within which landlords will be expected to undertake improvements if they have not done so already".
The Government do not anticipate there will be issues transitioning from the current EPC E standard to the EPC C and EPC B requirements under the compliance window approach. Therefore, from 2025 landlords may wish to consider ensuring their properties will be compliant with the upcoming MEES requirements that will be enforced from 1 April 2027.
Who bares the costs?
It is generally the landlord's responsibility to ensure there is a valid EPC in place. If you are issuing, renewing or extending a lease you must provide a valid EPC and make this available to the prospective tenant free of charge at the earliest opportunity. You should review any existing leases to check if the works required to be carried out to improve the EPC rating can be passed to the tenant or are your responsibility. If entering into any new leases, you should consider getting legal advice from a solicitor who can assist with drafting a lease so that improvement costs of the property pursuant to statutory requirements can be passed to the tenant.
The Government have also suggested in their 2021 report that landlords may also be required to pay a database registration fee cost when demonstrating compliance with the PRS regulations. If you are a landlord with a very large portfolio this could include set maximum total registration fee.
If you are a tenant, you should check the lease to see what costs of building improvements you are responsible for, including those carried out to increase the EPC rating. You should also ascertain if the landlord has the right to enter the property to carry out energy improvement works and ensure when you are entering the lease that you have been provided with a valid EPC.
M&P Commentary
Emma Boys-Smith, Trainee Solicitor in the Dispute Resolution Team said:
"Although the Government's EPC Future B Trajectory is currently in draft form, it is not an unrealistic proposal to expect in the near future. Landlords need to be aware that new regulations may be on the way following further Government consultation and the upcoming changes to EPC standards in April 2023.
Our Commercial Property Team are highly skilled negotiators and are happy to advise you on whether your commercial property may be subject to the upcoming regulations as well as, reviewing and drafting leases to identify your rights and obligations as a Landlord."
Ranked highly in Romford and Brentwood for solicitor firms
The service I received from Allison was exceptional. Always highly professional and informative.
Mullis and Peake are very efficient, professional and friendly company to deal with. Excellent service throughout.
Excellent, swift service from Esther at Mullis & Peake. Showed clear expertise in her field & walked me through everything patiently & thoroughly.
I found the service provided was excellent from start to finish, with our requirements met in a timely manner throughout.
Staff very helpful and friendly. Trudi was easy to talk to and to understand the procedure.
We contacted Martyn to deal with a sensitive Will dispute and we can't thank him enough for his commitment and hard work.
Very prompt. Experienced. Expert. Friendly.
Excellent service and far quicker than previous negotiations using a different solicitor.
At all times I was kept informed about the progress of the case and everything was completed in a timely fashion.
Martyn undertook and guided me through the lengthy process [of a personal injury case], and after much work, achieved a successful result.